---
Krmení při odchovu
7. 2. 2008
Při odchovu krátkozobých holubů je velmi důležitá krmná směs zrnin.
V mém chovu podávám tradiční holubí zob: kukuřice, hrách, peluška, pšenice.
Velmi se mi osvědčilo podávat proso a řepku. Tuto směs dostávají v omezeném množství ve vzláštním krmítku ve voliéře a to dvakrát denně.
Denní dávka krmiva pro cca 40-50holubů je 1 - 1,5kg zrnin.
Na toto krmení se holubi vyloženě těší, protože při plnění krmítka mi skoro zobou z ruky.
Při večerní kontrole holouba na hnízdě jsou holoubata nakrmena převážně tímto drobným krmivem. 
Při nedostatku drobn0ho krmiva chůvy sice holubata nakrmí, ale většinou kukuřicí a peluškou, kterou holoubata déle tráví.
Někdy, když není místo pod chůvami a holoubata krmí rodiče, je nutné je dokrmovat ručně. V takovém to případě používám namočený holubí zob a dokrmuji pouze večer.
Občas musím přikrmit i holoubata pod chůvami (když holub honí holubici znovu na hnízdo), toto trvá pouze 2-3dny, pak už zase krmí sami.
Také je nutné podávat holubům grit (od fi.Tolar&Čechura), kamennou sůl, písek a zelené (tráva, ptačí zob, pampeliška).
Důležitá je též denně podávaná čistá, studená voda s trochou octa. Na 3litry vody asi 1ml octa.
Toto se dává pro lepší trávení.
Tak to jsou moje veškeré zkušenosti s krmením při odchovu.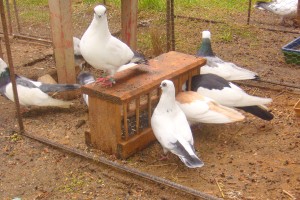 Komentáře
Přehled komentářů
---
---